Ledbury Station Heritage Website
The Ledbury Station Signs
Two distinctive signs have been designed and created for Ledbury Railway Station by talented Eastnor Blacksmith Andrew Findlay. One of these signs is strategically positioned in Ledbury Town Centre, the other is fitted to the valance of the Station Building. Andrew specialises in ornamental leafwork and, as Ledbury is in a hop growing area, he has decorated his station signs with hops. The Town Centre Sign
A Town Centre location was needed for the local railway timetable and the challenge was to give style to the timetable board, usually a pretty bland item of street furniture. We are all delighted with the result. The panier tank at the top of the sign is that owned by the Worcester Locomotive Society and was based at Bulmers in Hereford for many years.
The Ticket Office Sign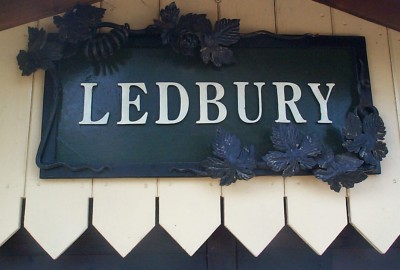 The Ledbury Station Ticket Office Sign is fitted to the front of the Station Building and is attractively decorated with hops.
Trains through Ledbury Station
Railticket Ordering Procedure
Ledbury Station Home Page
Contents Page